On July 22, The COSCO SHIPPING Plaza (Dalian) Conference Center project was formally capped.Directors, supervisors and leaders of COSCO SHIPPING Investment Dalian and relevant leaders of the project construction party attended the capping ceremony to witness together this significant moment.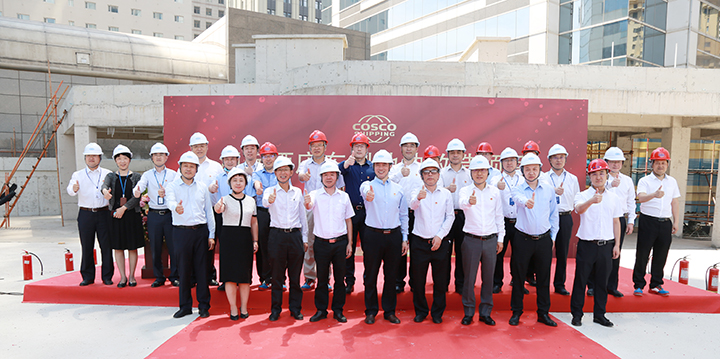 Zhu Maijin, chairman of the board and Party secretary of COSCO SHIPPING Investment Dalian, delivered a speech at the scene.
He said that COSCO SHIPPING Investment Dalian has always been committed to becoming an important platform for COSCO SHIPPING Group to connect with the local government. The conference center project is a positive measure for the company to rely on the development strategy of the group, realize the "14th Five-Year Plan", deeply integrate into northeast China and expand the socialized supporting industries.In the future, the conference center will vitalize the company's development, and further energize the brand influence of COSCO SHIPPING Group in Dalian and even northeast China. It will become a brilliant pearl in Dalian, the "international shipping center of Northeast Asia", shining with the characteristics of COSCO SHIPPING!
There is still a critical period before the conference center is officially put into operation,Zhu Maijin stressed. He expressed the wish thatevery persontaking part in the project construction can continue to carry forward the teamwork spirit and forge ahead with main structure cappingas the new starting point, strengthen sitesafety management, and ensure construction progress, so as to successfully complete the conference center project withhigh quality.
The conference center project covers a total construction area of about 8,900 square meters, with three floors above the ground, two floors underground, and the roof as the sky garden sightseeing area. After completed, the project will greatly upgrade theservice hardware facilities of COSCO SHIPPING Plaza (Dalian), and improveclients' comprehensive service experience in catering, accommodation, leisure, conferencing, activities and other aspects.