On April 21, Zhang Hui, the General Manager of Dalian Branch of China Classification Society (CCS) (CCS Dalian Branch), paid a visit to COSCO SHIPPING Investment Dalian Co., Ltd., where Zhang talked with Zhu Maijin, the Company's chairman and the Party committee secretary.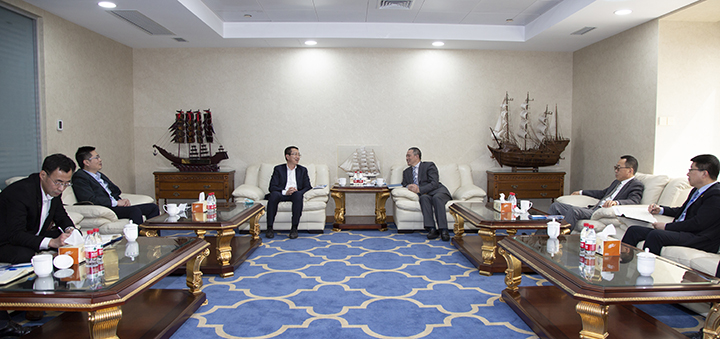 Zhu Maijin expressed his warm welcome to Zhang's visit and extended the wholehearted thanks for the long-term support and assistance provided by CCS Dalian Branch. Zhu introduced the Company's latest development status and had in-depth exchange concerning the development planning of LPG ship capacity, ship inspection service, etc. with Zhang. As Zhu Maijin said, "in the future, COSCO SHIPPING Investment Dalian Co., Ltd. will focus on the development of LPG industry and push forward the healthy development of LPG industry chain actively". He hoped that CCS Dalian Branch could continue to offer guidance and support in such aspects as ship operation inspection, ship system certification and operation & management and work together to make contributions to the construction of Dalian International Shipping Center in Northeast Asia and the development of shipping industry.
Zhang Hui expressed his thanks to Zhu's invitation. Both parties recalled the long-term and favorable cooperation history. Zhang Hui said, "CCS Dalian Branch will continue to provide active support and assistance in the fleet development and ship management of COSCO SHIPPING Investment Dalian Co., Ltd. and hopes that both parties will strengthen their exchange so as to expand cooperation realm and finally realize mutual benefits and win-win cooperation".
Relevant personnel of both parties, including Yue Mengqiang, the deputy general manager of CCS Dalian Branch, Shang Zuobin, the deputy general manager of the Company and Han Tiemin, the member of the Company's Safety Management Department also participated in the talk.