In order to further implement the work tasks of the company's production safety management, the company held a special meeting of the Safety Committee in accordance with the Group's learning requirements. On the afternoon of April 20. Zhu Maijin, Chairman of the Board and Party Secretary , Director of the Safety Committee, attended the meeting and made a speech.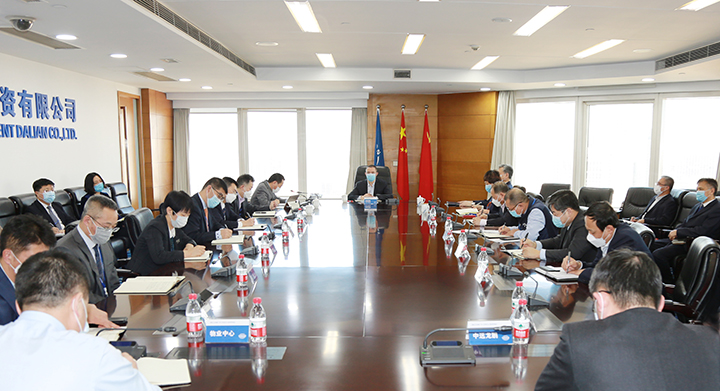 At the meeting, Shang Zuobin, Deputy General Manager , conveyed the spirit of the "National Teleconference on Work Safety" held on April 10 and the "Second Plenary Meeting of the Ministry of Transport", as well as the key contents of the "Three-year Action Plan for National Work Safety Special Rectification" released on April 1. Director of the Security Committee Office Bu Fanyi reported the decomposition and implementation of the company's security tasks at the present stage, deployed the concrete implementation work based on the spirit of superior meeting.
Zhu Maijin pointed out in his concluding speech that safety work is the firm guarantee and backing for the company's production and operation, and is particularly important for COSCO SHIPPING Investment Dalian Co., Ltd., which shoulders the heavy responsibility of turning a loss into a profit. Since this year, the company's safety management situation has maintained a steady momentum, especially under the impact of the epidemic, the resumption of work and production is done in an orderly manner, ensuring the steady progress of the company's production and operation and key work.
Zhu Maijin put forward three requirements for further improving safety management: First, enhance the degree of attention, strengthen the sense of responsibility, carry out safety work at all levels, strengthen the implementation of corporate responsibilities, strictly fulfill responsibilities at all levels and firmly guard the bottom line of production safety; Second, focus on key fields, highlight problem orientation, rigorously investigate and carefully identify potential safety risks, pay close attention to rectification and implementation, and strengthen safety risk management and control to eliminate potential risks of major accidents from the source. Third, pay close attention to the implementation of tasks, strengthen tracking and supervision, and conduct strict safety assessment throughout the year. Provide effective guidance for the implementation of safety management measures, and help each unit to complete safety work within the prescribed time schedule.