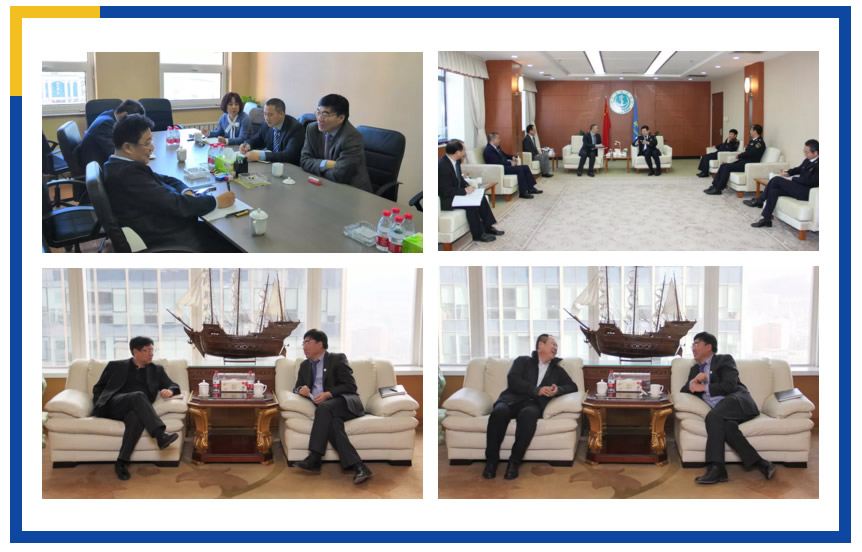 In the past few days, Chairman of the Board and Party Secretary, Yang Shicheng, the Director and GM, Zhu Maijin, and other company leaders started a series of business communication events, and had friendly negotiations with relevant partners.
On March 6th, Yang Shicheng met with Gao Zhiqiang, the deputy secretary of the Dalian Port Working Committee, and Xu Lizhi, the president of China Merchants Bank Dalian Branch. On the morning of March 7th, Zhu Maijin visited Zheng Dongbing, the party secretary and director of the Liaoning Maritime Affairs Bureau.In the afternoon, Yang Shicheng and Zhu Maijin visited Yang Guangzhi, the director of the Changxing Island Economic Zone Management Committee.
During the talks, Yang Shicheng and Zhu Maijin briefly introduced the establishment background and history about the company as well as the current industrial structure, business scope, and future direction of development. In addition, they also proposed ideas and exchanged views on further in-depth cooperation in the future between the two sides.
This series of business exchange activities has promoted a comprehensive understanding of the company by relevant partners and also laid a good foundation to achieve win-win cooperation in related fields.