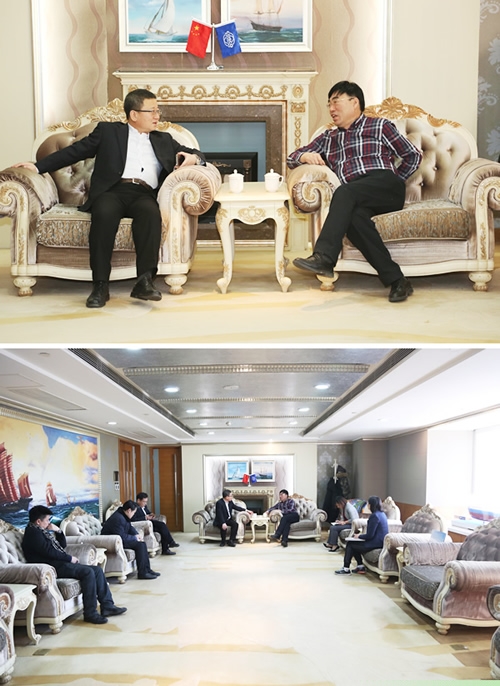 On the afternoon of 29th December, the leader of the preparatory group of the Dalian Regional Company Mr Yang Shicheng met with managing director of COSCO SHIPPING AGENCY CO., LTD. Mr Bian Yingjian in COSCO SHIPPING Plaza (Dalian). Relevant people of the company also attended the meeting.
Mr Yang gave a warm welcome to Mr Bian Yingjian, and exchanged ideas about dangerous goods storage building, logistics supply business development, construction of logistics parks, etc. Mr Yang briefly introduced the company's current consolidation and transformation development, stated that in the future Dalian regional company will closely contact with other associate companies in Dalian, producing synergistic effect, keeping enlarging the scale of COSCO SHIPPING Group's investment in Northeast China. He hoped that COSCO SHIPPING AGENCY could provide a stronger support, and two companies could achieve common development.
Mr Bian Yingjian briefly introduced the COSCO SHIPPING AGENCY and its positioning. He had full of expectation of regional company's future, two companies have a broad perspective in relevant areas, hoping that COSCO SHIPPING AGENCY could join in the Dalian regional company's investment and cooperation, two companies could develop together. In the end, Mr Bian Yingjian wished leaders of COSCO SHIPPING Tanker (Dalian) and the whole staff a happy new year.